About Our Poway Plumbing Contractors

Honesty and integrity are two of the hallmarks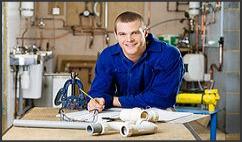 that set us apart from most other plumbing companies. We hold these values as the foundation of our company and believe they've played a major part in our success so far. We realize that you could choose any other Poway plumbing contractor, but you've taken the time to consider us. We can assure you, you've made the right choice.
What You Can Expect From Our Certified Poway Plumbing Contractors


Plumbers who always arrive on time, with a fully loaded truck, and an eagerness to solve your plumbing issues.


Employees who holds both a current and valid Certificate of Qualification for the state of California. Additionally, each technician is monitored by a veteran plumber before they are sent on service calls alone.


Technicians who have completed a thorough character and reference check which includes a criminal background check and drug testing.


A plumber who will take the time to listen carefully to your explanation of the problem. We understand that no one knows what's normal and not normal for your home or business better than you do.


A plumber who will explain all the possible solutions in a manner that you can fully understand and approve of before proceeding with any work order.


Fair and upfront pricing. We provide the estimate for the work we plan to perform in writing - we don't believe in invoice shock.


A team that doesn't believe in wasting your time. A Poway plumbing contractor will quickly get the job done right - the very first time! We consider our service trucks to be mobile warehouses that equip us to complete almost any job right on the spot.


A promise to always clean up our mess. We always return your home to the same condition it was in when we entered.
---